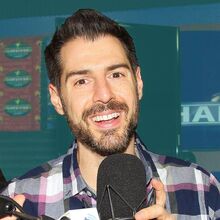 I'm Rob Cesternino and I have a website. I also have a podcast where I talk about strategic Reality TV Shows like Survivor, Big Brother, The Amazing Race and Celebrity Apprentice. I am a former two-time Survivor contestant (Survivor: The Amazon and Survivor: All-Stars) and Jeff Probst once called me "the smartest player to never win Survivor."
Since I launched it in 2010, Rob Has a Podcast has grown to be a fixture among the top podcasts in the TV & Film category in iTunes. RHAP has won three People's Choice Podcast Awards: Best Entertainment Podcast (2012), Best Video Podcast (2013) and Best Produced Podcast (2013). In 2013, the podcast had over 2 million episode downloads and over 23 million minutes watched onour YouTube channel.
I still can't get over that I get to talk about all the reality shows that I love. I'm incredibly proud of the tremendous community of fans, guests and correspondents that we've built here around Rob Has a Podcast. If you're visiting for the first time, I hope you check out some of the shows. I'm looking forward to hearing what you think!
Contact Rob
Edit
Twitter: @robcesternino
Email: rob.cesternino@gmail.com
Community content is available under
CC-BY-SA
unless otherwise noted.