Jurassic World: Dominion Dominates Fandom Wikis - The Loop
Play Sound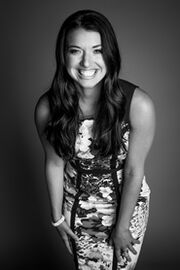 Parvati Shallow is a four-time Survivor contestant, the winner of Survivor: Micronesia - Fans vs. Favorites runner-up of Survivor: Heroes vs. Villains and placed sixth on Cook Island. She is the former host of the Survivor After Show on CBS.com and the winner of Miss Survivor 2012.
Bio
[
]
Parvati Shallow grew up the eldest of three siblings on a commune in Vero Beach, Florida. She and her family moved to Atlanta when she was 11 years old. Shallow put herself through college, attending the University of Georgia where she received her Bachelor of Arts degree in journalism with minors in French and Italian. While in college, she was an active member of the Alpha Omicron Pi sorority and is a huge Bulldog fan!
A nature lover at heart, Shallow has spent extensive amounts of time camping and hiking through North America's state parks including the Tetons and Yellowstone. While in college, she organized a two-month backpacking trip through Europe where she and two friends visited 13 countries, sleeping in youth hostels, train stations, on beaches and park benches. Shallow's favorites include good sushi, wearing oversized jerseys, karaoke and cheering on "The Dawgs." She is also training for triathlons with her mom, Gale.
Shallow has found her niche with the Los Angeles boxing community and began competing in 2004. She and some fellow boxers have parlayed her passion for the sport into the creation of a non-profit organization titled "Knockouts for Girls," a charity that provides scholarships and boxing lessons for underprivileged girls. The organization recently held their first fundraising event that included boxing matches and a fashion show. Having been a huge success, she will be boxing at a second fundraiser in February, 2008.
Shallow currently resides in Los Angeles, California. Her birth date is September 21, 1982.[1]
Parvati finished in sixth place on Survivor: Cook Islands and returned to compete on the Favorites tribe three seasons later on Micronesia, where she won in a 5-3 vote. She returned once again for the twentieth season as a villain on Heroes vs. Villains. Though she made it to the finals once more (only the second winner to ever do so), she lost in a 6-3 vote to Sandra Diaz Twine.
RHAP Appearances
[
]
First Appearance: April 15, 2011[2]

[

]
Parvati first appeared on the podcast after the ninth episode of Survivor: Redemption Island. Her and Rob talked about the dominance of her former tribe mate Boston Rob and the fizzling out of her former ally and finals partner Russell Hantz. They then discuss contestant Phillip Sheppard and whether he's playing up a character as part of a strategy. The two end the show by talking about Parvati's previous seasons and whether contestant Jerri Manthey would win if she had made it to the finals of Heroes vs. Villains.
Second Appearance: July 8, 2011[3]

[

]
Parvati returned a few months later in a videocast at ESP Wellness in Santa Monica. Her, Rob, and Nicole discussed her new hosting gig on the third season of Around the World for Free a reality series that sends one person on a 100-day trip around the world without any money. Parvati spoke about the program and its capacity for viewer influence, along with personal training Nicole and how she feels she stacks up against Boston Rob, who previously competed on two seasons of The Amazing Race and was going to soon host the History Channel show Around the World in 80 Ways.
Third Appearance: November 4, 2011[4]

[

]
After her trip around the world, Parvati was able to come back and podcast about her travels. She recounted her global adventures to Rob and Nicole, included how she got injured while traveling through Africa. She also talked about what happened when her and Boston Rob traded notes about traveling around the world. Lastly, Parvati discussed what she thought of the latest iterations of her former tribe mates Coach Wade and Ozzy Lusth on Survivor: South Pacific, and her mention from the mouth of contestant Brandon Hantz.
Fourth Appearance: December 14, 2012[5]

[

]
After missing out on a couple of seasons, Parvati returned for the first time in more than a year and a half to discuss Survivor after the thirteenth episode of Survivor: Philippines. Rob starts off by discussing the decision by the final four to not take Abi-Maria Gomes to the finals. Parvati said that she always has played the game as somebody who wants to win the game and take the players that can be beat – not who would be the most honorable to go up against in the finals. Rob brings up Malcolm Freberg saying that he is a triple threat in the game, much like Parvati. Rob wants to know what Parvati thinks about his plans and why he didn't vote out Denise Stapley this week. Rob gets Parvati's take on Abi-Maria as well. Like Rob, Abi-Maria grew on Parvati over the course of the season. Rob and Parvati try to get a good feel for what is going to happen on Sunday's finale. Rob is very confused because there is not normally a four person finale episode when it is a final 3 on the show. Rob is very disappointed that Jonathan Penner didn't make it to the final tribal council because that had a lot of potential to be great. Rob and Parvati discuss which are the players they could see winning the game. Parvati then discusses a number of topics with our questions from Facebook, including Miss Survivor 2013.
Fifth Appearance: February 4, 2013[6]

[

]
Parvati appeared at the tail-end of a podcast to discuss the controversy of Abi-Maria Gomes clamoring to be a write-in candidate after not making it to the Top 3 of Miss Survivor 2013. As the reigning Miss Survivor, Rob seeks Parvati's counsel to tell him whether she thinks it's fair for there to be a write-in candidate for the Miss Survivor finals. Parvati also explains how being the 2012 Miss Survivor changed her life for the better.
Sixth Appearance: May 10, 2014[7]

[

]
Parvati came onto the voicemails section of the recap podcast after episode 11 of Survivor: Cagayan to answer several questions, including:
What does Parvati think of Tony's game in comparison to Russell Hantz's?
Does Parvati prefer a Final 2 season to a Final 3 season as a viewer?
Does Malcolm get too much credit for playing 2 idols during one tribal council?
Does Spencer still have a 0% chance to win the game?
What does Parvati think of the hidden immunity idol use this season– has it been too boring?
Have there been any players that have been difficult to interview during "Survivor Live" on CBS.com?
What hashtags would have been used during Parvati's seasons of "Survivor"?
Seventh Appearance: November 6, 2014[8]

[

]
Parvati returned one season later to talk about the merge episode of Survivor: San Juan Del Sur and the upcoming LA Fest soccer match. Then Parvati answered a number of questions from the listeners of Rob Has a Podcast including what did Parvati think of the endurance challenge, will the gender imbalance be a problem for the women, has the game gotten easier and which of these Survivor San Juan Del Sur players have a strategy that will translate to the bedroom?
Eighth Appearance: May 5, 2016[9]

[

]
After a three season break, Parvati came onto the podcast to recap episode 12 of Survivor: Kaôh Rōng and preview the Final 5.
Miss Survivor 2012
[
]
Parvati was part of eligible pool for Miss Survivor 2012, which drew from the contestants from Seasons 1-23. She was voted into the top five in the first round by a popular vote. In the second round, she had an interview with Rob and Nicole, and speaks of her latest connection with beauty pageants (aside from Miss Survivor), her own secret talents and what her vision is for the title of Miss Survivor.[10]
Upon another popular vote after the five finalist interviews, Parvati was declared the winner and given the official title of Miss Survivor, along with being awarded an official crown and sash.[11] Parvati then appeared during the reveal of Miss Survivor 2013 to hand down the title.
Other Appearances and Facts
[
]
Parvati's travels on Around the World for Free were updated by Nicole on two separate

Friggin' 5

podcasts in the latter half of 2011.[12] [13]
Parvati made a brief appearance on the live videocast of the Survivor: Philippines finale. Rob was on location in Los Angeles and ran into Parvati, who was working the event as part of the press.
Parvati hosted the Roast of Rob Cesternino on January 26, 2014.
Parvati was the first person announced to be inducted into the Survivor Hall of Fame on December 15, 2010. It was revealed that she had the most amount of votes from both the popular vote and panel of experts.[14]
Parvati has has one of the closest ties to CBS after competing than any other Survivor contestant. After winning Micronesia, she hosted official previews of Survivor: Gabon, Survivor: Nicaragua, and Survivor: Blood vs. Water. In the latter, she was able to actually visit the island during the first day or so of the game with the rest of the press.
Parvati is the current host of the Survivor After Show an online show that aires the day after every Survivor episode by talking with the eliminated player, usually assisted by a former contestant or expert. She started the job with Survivor: Caramoan on February 14, 2013, joined in the studio by her former tribemate Ozzy Lusth.
Parvati is the owner of ESP Studios, a fitness studio in California. She has become close with Nicole Cesternino, whose fitness regimen led her to Parvati's studio.
Parvati appeared as herself in the movie Into the Blue 2 in 2009, along with Survivor contestant, ally, finals partner, and Miss Survivor finalist Amanda Kimmel.
Parvati was the roastmaster of the Roast of Rob Cesternino on January 26, 2014.
Parvati is currently married to Survivor: Samoa contestant and frequent RHAP guest John Fincher.
References
[
]
External Links
[
]