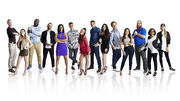 Description
Edit
Big Brother Canada 6 was the sixth season of the series and also of coverage on RHAP. The format closely followed that of the American version of the show with major additional twists mixed in including allowing the Canadian audience to influence the game heavily via voting.
For the Thursday and Monday episodes, live shows happened right after the East Coast airing, hosted by Taran Armstrong and Rob Cesternino, respectively. With the exception of the premiere, all Wednesday episode recaps were done the next morning. The daily live feed updates that began in Big Brother 19 continued, as well as the weekly LFC roundtable podcasts. Taran also did exit interviews with the most recently-evicted houseguest on Fridays.
List of Podcasts and Guests
Edit
NOTES: Taran Armstrong appeared on every Wednesday and Thursday episode recap, as well as every live feed update and every exit interview. Rob Cesternino appeared on every Monday episode recap.
Preseason
Edit
March 2, 2018 - LFC Preseason Draft: Taran Armstrong, Melissa Deni, Brent Wolgamott
March 6, 2018 - Arisa Cox Preseason Interview: Rob Cesternino, Arisa Cox, Taran Armstrong
March 7, 2018 -  Premiere Recap Podcast : Taran Armstrong, Melissa Deni, Brent Wolgamott
March 8, 2018 -  Thursday Eviction Recap Podcast : Taran Armstrong, Melissa Deni, Brent Wolgamott
March 9, 2018 - Overnight Update Podcast | March 9, 2018: Pooya Zand Vakili
March 9, 2018 - Exit Interview | March 9: Rob Cesternino, Rozina Ballantine 
March 10, 2018 - Overnight Update Podcast | March 10, 2018: Liana Boraas
March 11, 2018 -  Overnight Update Podcast | March 11, 2018: Jon Krause
March 12, 2018 - Overnight Update Podcast | March 12, 2018: Matt Liguori
March 12, 2018 - Monday Recap Podcast: Taran Armstrong, Brent Wolgamott
March 13, 2018 - Overnight Update Podcast | March 13, 2018: Jen Stanger
March 13, 2018 - LFC Roundtable Podcast | March 13, 2018: Taran Armstrong, Melissa Deni, Brent Wolgamott
March 14, 2018 - Overnight Update Podcast | March 14, 2018: Lita Brillman
March 15, 2018 - Overnight Update Podcast | March 15, 2018: Brent Wolgamott, Pooya Zand Vakili
March 15, 2018 - Thursday Eviction Recap Podcast: Lita Brillman, Melissa Deni
March 16, 2018 - Overnight Update Podcast | March 16, 2018: Pooya Zand Vakili
March 16, 2018 - Exit Interview | March 16: Andrew Miller
March 17, 2018 - Overnight Update Podcast | March 17, 2018: Liana Boraas
March 18, 2018 - Overnight Update Podcast | March 18, 2018: Jon Krause
March 19, 2018 - Overnight Update Podcast | March 19, 2018: Matt Liguori
March 19, 2018 - March 19 | Monday Recap Podcast: Andrew Miller, Melissa Deni
March 20, 2018 - Overnight Update Podcast | March 20, 2018: Jen Stanger
March 20, 2018 - LFC Roundtable Podcast | March 20, 2018: Taran Armstrong, Melissa Deni, Brent Wolgamott
March 21, 2018 - Overnight Update Podcast | March 21, 2018: Lita Brillman
March 22, 2018 - Overnight Update Podcast | March 22, 2018: Matt Liguori
March 22, 2018 - March 22 | Thursday Eviction Recap Podcast: Godfrey Mangwiza, Brent Wolgamott
March 23, 2018 - Overnight Update & Exit Interview Podcast | March 23, 2018: Pooya Zand Vakili, Jesse Larson
March 24, 2018 - Overnight Update Podcast | March 24, 2018: Liana Boraas
March 25, 2018 - Overnight Update Podcast | March 25, 2018: Jon Krause
March 26, 2018 - March 26, 2018 | Overnight Update Podcast: Matt Liguori
March 26, 2018 - March 26 | Monday Recap Podcast: Kirsten MacInnis, Rob Cesternino
March 27, 2018 - March 27, 2018 | Overnight Update Podcast: Jen Stanger
March 27, 2018 - LFC Roundtable Podcast | March 27, 2018: Taran Armstrong, Melissa Deni, Brent Wolgamott
March 28, 2018 - March 28, 2018 | Overnight Update Podcast: Lita Brillman
March 29, 2018 - March 29, 2018 | Overnight Update Podcast: Lita Brillman
March 29, 2018 - March 29 | Thursday Double Eviction Recap Podcast: Pilar Nemer, Brent Wolgamott, Adam Klein, Rob Cesternino
March 30, 2018 - DOUBLE Exit Interview | March 30: Veronica Doherty, Hamza Hatoum
March 31, 2018 - March 31, 2018 | Overnight Update Podcast
April 1, 2018 - April 1, 2018 | Overnight Update Podcast: Jon Krause
April 2, 2018 - April 2, 2018 | Overnight Update Podcast: Matt Liguori
April 2, 2018 - April 2 | Monday Recap Podcast | Karen Singbell: Karen Singbeil, Brent Wolgamott
April 3, 2018 - April 3, 2018 | Overnight Update Podcast: Jen Stanger
April 4, 2018 - April 4, 2018 | Overnight Update Podcast: Lita Brillman
April 4, 2018 - LFC Roundtable Podcast | April 3, 2018: Taran Armstrong, Melissa Deni, Brent Wolgamott
April 5, 2018 - April 5, 2018 | Overnight Update Podcast: Jon Krause
April 5, 2018 - April 5 | Thursday Eviction Recap Podcast | Jesse Larson: Jesse Larson, Melissa Deni
April 6, 2018 - April 6, 2018 | Overnight Update Podcast: Pooya Zand Vakili
April 6, 2018 - Exit Interview | April 6: Merron Haile
April 7, 2018 - April 7, 2018 | Overnight Update Podcast: Liana Boraas
April 8, 2018 - April 8, 2018 | Overnight Update Podcast
April 9, 2018 - April 9, 2018 | Overnight Update Podcast: Matt Liguori
April 9, 2018 - April 9 | Monday Recap Podcast: Bruno Ielo, Taran Armstrong
April 10, 2018 - April 10, 2018 | Overnight Update Podcast: Jon Krause
April 10, 2018 - LFC Roundtable Podcast | April 10, 2018: Taran Armstrong, Melissa Deni, Brent Wolgamott
April 11, 2018 - April 11, 2018 | Overnight Update Podcast: Lita Brillman
April 12, 2018 - April 12, 2018 | Overnight Update Podcast: Pilar Nemer
April 12, 2018 - April 12 | Thursday Eviction Recap Podcast | Maddy Pavle: Maddy Pavle, Melissa Deni
April 13, 2018 - April 13, 2018 | Overnight Update Podcast: Pooya Zand Vakili
April 13, 2018 - Exit Interview | April 13: Erica HIll
April 14, 2018 - April 14, 2018 | Overnight Update Podcast: Liana Boraas, Brent Wolgamott
April 15, 2018 - April 15, 2018 | Overnight Update Podcast
April 16, 2018 - April 16, 2018 | Overnight Update Podcast: Matt Liguori
April 16, 2018 - April 16 | Monday Recap Podcast | Demika: Ika Wong, Demetres Giannitsos, Brent Wolgamott
April 17, 2018 - April 17, 2018 | Overnight Update Podcast: Lita Brillman
April 17, 2018 - LFC Roundtable Podcast | April 17, 2018: Taran Armstrong, Melissa Deni, Brent Wolgamott
April 18, 2018 - April 18, 2018 | Overnight Update Podcast: Matt Liguori
April 19, 2018 - April 19, 2018 | Overnight Update Podcast: Pooya Zand Vakili
April 19, 2018 - April 19 | Thursday Eviction Recap Podcast: Matt Liguori, Melissa Deni
April 20, 2018 - April 20, 2018 | Overnight Update Podcast & Exit Interview: Pooya Zand Vakili, Ryan Ballantine
April 21, 2018 - April 21, 2018 | Overnight Update Podcast: Liana Boraas
April 22, 2018 - April 22, 2018 | Overnight Update Podcast: Kirsten MacInnis
April 23, 2018 - April 23, 2018 | Overnight Update Podcast: Matt Liguori
April 23, 2018 - April 23 | Monday Recap Podcast: Mike Bloom, Melissa Deni
April 24, 2018 - April 24, 2018 | Overnight Update Podcast: Brent Wolgamott
April 24, 2018 - LFC Roundtable Podcast | April 24, 2018: Taran Armstrong, Melissa Deni, Brent Wolgamott
April 25, 2018 - April 25, 2018 | Overnight Update Podcast: Matt Liguori
April 26, 2018 - April 26, 2018 | Overnight Update Podcast: Matt Liguori
April 26, 2018 - April 26 | Thursday TRIPLE Eviction Recap Podcast | Kevin Martin: Kevin Martin, Melissa Deni, Brent Wolgamott
April 27, 2018 - April 27, 2018 | Overnight Update Podcast: Lita Brillman
April 27, 2018 -  TRIPLE Exit Interview | April 27: Alejandra "Ali" Martinez, Olivia Riember, Johnny Mulder 
April 28, 2018 - April 28, 2018 | Overnight Update Podcast: Liana Boraas
April 29, 2018 - April 29, 2018 | Overnight Update Podcast
April 30, 2018 - April 30, 2018 | Overnight Update Podcast: Matt Liguori  
April 30, 2018 - April 30 | Monday Recap Podcast: Taran Armstrong, Brent Wolgamott
May 1, 2018 -  May 1, 2018 | Overnight Update Podcast
May 1, 2018 - LFC Roundtable Podcast | May 1, 2018:  Taran Armstrong, Melissa Deni, Brent Wolgamott
May 2, 2018 -  May 2, 2018 | Overnight Update Podcast: Lita Brillman
May 3, 2018 - May 3, 2018 | Overnight Update Podcast:  Pooya Zand Vakili
May 3, 2018 - May 3 | Thursday Eviction Recap Podcast: Pilar Nemer. Melissa Deni
May 4, 2018 - May 4, 2018 | Overnight Update Podcast:  Pooya Zand Vakili, Brent Wolgamott
May 4, 2018 -  Exit Interview | May 4: Maddy Poplett 
May 5, 2018 - May 5, 2018 | Overnight Update Podcast: Liana Borras
May 6, 2018 -  May 6, 2018 | Overnight Update Podcast: Kirsten MacInnis 
May 7, 2018 -  May 7 | Monday Recap Podcast UPDATE: Taran Armstrong, Brent Wolgamott
May 8, 2018 -  May 8, 2018 | Overnight Update Podcast: Pooya Zand Vakili
May 8, 2018 -  LFC Roundtable Podcast | May 8, 2018: Taran Armstrong, Melissa Deni, Brent Wolgamott
May 9, 2018 -  May 9, 2018 | Overnight Update Podcast: Brent Wolgamott
May 10, 2018 - May 10, 2018 | Overnight Update Podcast: Matt Liguori
May 10, 2018 - May 10 | FINALE Recap Podcast : Melissa Deni, Brent Wolgamott
May 11, 2018 - FINAL 3 Exit Interviews | May 11: Paris Atashnak, Kaela Grant, Derek Kesseler 
Post Season
Edit
May 17, 2018 - Big Brother Canada 6 | RYAN BALLANTINE: Ryan Ballantine 
May 17, 2018 - Big Brother Canada 6 | OLIVIA RIEMER: Olivia Riemer 
May 18, 2018 - Big Brother Canada 6 | JOHNNY MULDER: Johnny Mulder 
May 19, 2018 - Big Brother Canada 6 | ALEJANDRA "ALI" MARTINEZ: Alejandra "Ali" Martinez 
May 21, 2018 - Big Brother Canada 6 | MADELINE "MADDY" POPLETT: Madeline "Maddy" Poplett 
May 27, 2018 - Big Brother Canada 6 | PARAS ATASHNAK: Paras Atashnak 
May 30, 2018 - LFC Roundtable: Taran Armstrong, Melissa Deni, Brent Wolgamott
Other Facts
Edit
References
Edit
External Links
Edit