Description
Edit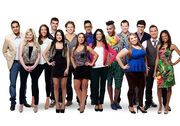 Big Brother Canada 1 was the debut season of the series in Canada. The format closely followed that of the American version of the show with additional twists mixed in. Rob covered the show approximately once a week as well as conducting some exit interviews.
List of Podcasts and Guests
Edit
NOTES: Rob Cesternino appeared on every podcast of the season. Brian Lynch appeared on every podcast except for the preview podcast, the exit interview with Tom and Liza, and the post-season interview with Alec and Peter.
Pre-Season
Edit
February 24, 2013 - Ian Terry Previews the Cast of Big Brother Canada: Ian Terry
March 3, 2013 - Recapping the First Week of Big Brother Canada LIVE
March 9, 2013 - Recapping the Week in Big Brother Canada with Kat Yee: Kat Yee
March 12, 2013 - Danielle on her Shocking Big Brother Canada Eviction: Danielle Alexander
March 16, 2013 - A Swarm of Controversy Stings Big Brother Canada
March 22, 2013 - Aneal on the Big Brother Canada Double Eviction: Aneal Ramkissoon
March 30, 2013 - LIVE with Tom and Liza from Big Brother Canada: Tom Plant, Liza Stinton
April 2, 2013 - Rob's Big Problem With the Instant Eviction on Big Brother Canada
April 9, 2013 - Ian Terry Helps Eulogize "The Shield" From Big Brother Canada: Ian Terry
April 16, 2013 - Recapping the Latest Big Brother Canada Power Shift with Aneal: Aneal Ramkissoon
April 23, 2013 - How the Return of Gary Has Shaken Up Big Brother Canada
April 30, 2013 - Brenchel Discusses Big Brother Canada's Own Power Couple: Brendon Villegas, Rachel Reilly
May 5, 2013 - Last Word on the Big Brother Canada Finale with Dan Gheesling: Dan Gheesling
Post Season
Edit
May 16, 2013 - Rob Has a Sheyldcast: Alec & Peter From Big Brother Canada: Peter Brown, Alec Beall
Live Feed Correspondents
Edit
Other Facts
Edit
References
Edit
External Links
Edit